Many people are leaving the consumption of meat and dairy products and are choosing veganism. This is a completely personal choice but the reasons are quite similar for everyone. Either to lead a healthy plant-based life or to save the lives of animals, people are going vegan. If you are also thinking of veganism, here are some easy vegan recipes. The best part of these vegan recipes is that they take very less time to prepare and taste heavenly.
Easy-Peasy Vegan Recipes That You Can Make At Home
1. Drunken Monkey
Starting the list of vegan recipes with a delicious drink. All you will need are some fruits such as apples, bananas, green grapes, melons, and pineapples. You will also need some rum, orange juice, and nutmeg. Take a glass and pour some orange juice, and rum, and shake it well. Add ice and sprinkle some nutmeg powder and garnish with fruit slices. A drink made in minutes; easy peasy!
Also read: This World Vegan Day, You Can Enjoy A Vegan Meal 30,000 Ft Above Ground
2. Baingan Bharta
Baingan Bharta is a favorite in every Indian household in the winter season. Take an eggplant of about 500 gm and cut some slits on it. Inside the slits, put some onion cloves and chili. Grease it well with oil and grill or roast it. Keep it directly on the flame and wait for it to roast properly. After charring, peel off the skin and chop the boiled eggplant. Take a pan and fry ginger, garlic, onions, tomatoes, and chilies in oil. Once it gets all mushy and well-fried, add the chopped eggplant to it. Cook it for a few minutes and you have your delicious vegan Baingan Bharta in only some time.
3. Creamy Garlic Mushrooms
Just because the name is Creamy Garlic Mushrooms, doesn't mean that it is not a vegan recipe. All you need to do is skip your dairy cream and use anything non-dairy. Take a pan and heat some butter on it. Saute onions, garlic, mushrooms, salt, and pepper until you get the mouth-watering smell. Once cooked well, pour the non-dairy cream into it and stir it well until everything gets soft. Simmer the gas and sprinkle some parsley on top. That's all you need to do to prepare one of the simplest vegan recipes, Creamy Garlic Mushrooms.
Also read: 4 Best Vegan Cafes In Kolkata That Serve Comforting Plant-Based Delicacies
4. Palak Tofu
Do you know how to cook Palak Paneer? If yes, then you are already an expert in cooking Palak Tofu. Start with flying the tofu pieces until they are golden brown. Add some salt while frying these. Next, take a pot and boil the spinach leaves. Blend the boiled spinach for a smooth texture paste. Take a pan and heat some oil to fry bay leaves and cumin seeds for the flavour. Add onion, garlic, ginger, garam masala, coriander powder, turmeric, and Kasuri methi, and give everything a good stir. Once everything gets cooked well, pour the boiled spinach paste. Lastly, add the tofu pieces and add non-dairy milk. Let it boil for a minute or two and you will have your Palak Tofu ready.
5. Peanut Butter Mug Cake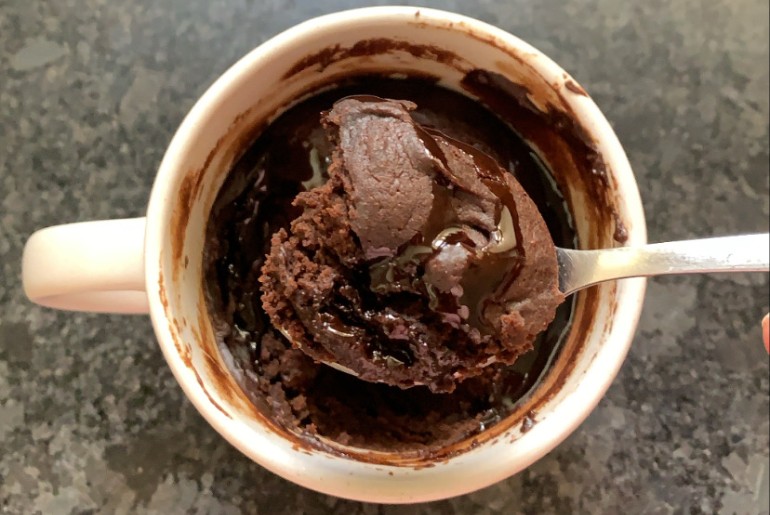 Bake a cake with absolutely no egg, no baking tray, and no fancy equipment. Wanna know how? Take a microwave-proof cup and pour 1tbsp oil, sugar powder, some peanut butter, milk (substitute of yolk), a pinch of baking powder, and flour. Mix everything until you get a smooth paste. Put the cup in the microwave for just 2 minutes and you have your vegan peanut butter mug cake ready in 5 minutes.
These are 5 of our easiest vegan recipes to try. Let us know which one is your favourite.
Cover Image Courtesy: Wikimedia Commons