There are plenty of near-by escapes to set off to, from sipping rose in the Hamptons to the countryside in Connecticut. But what about upstate? This can refer to a number of small (or not-so-small) towns north of the island of Manhattan, but it's never been clear exactly where one goes when heading to this ever-elusive region. I've long associated 'upstate' with the Catskills, another equally ambiguous part of New York — so imagine my surprise when I realized that Catskill itself is an actual town. With no less than three 'cat' themed shops and a spirit eclectic enough to feel worlds apart from the city, I can't recommend a visit soon enough. See below for a full guide on what to do, where to eat, and more.
Where to Stay
piaule
The dining area inside the main lodge.
Photos: Courtesy of Porter Simmons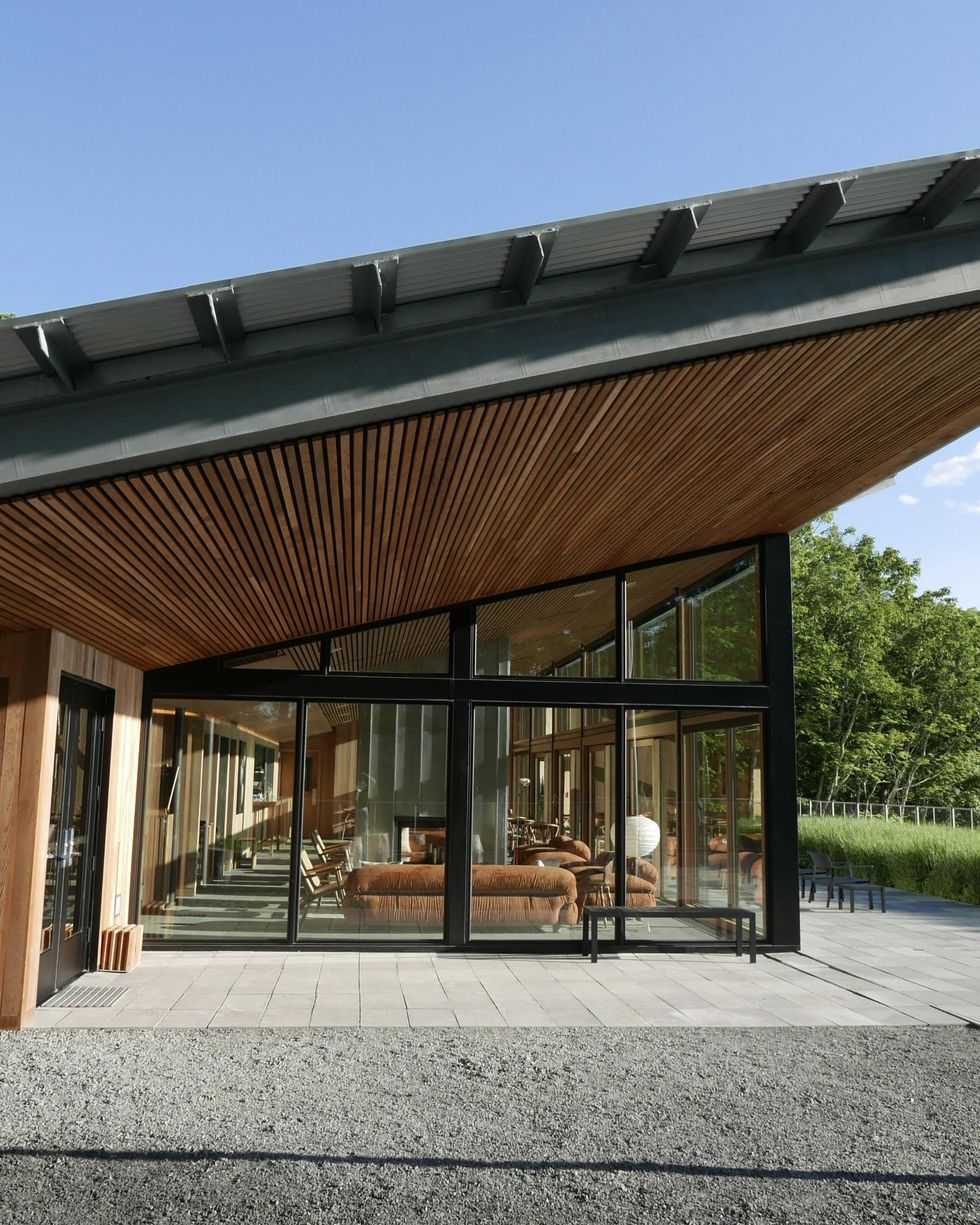 The exterior of the main lodge at Piaule
A sitting room inside the spa, overlooking the hotel property
There's no doubt about it — Piaule is an esthete's dream. The landscape hotel with over twenty private 'cabins' offers a perfect escape from the hustle and bustle of New York. Each room has one wall made of glass, offering a glimpse into nature at every hour of the day. Piaule is the brain child of Nolan McHugh and Trevor Briggs, a NYC-based creative duo (also behind the homeware brand of the same name). The main lodge is one of the most Instagrammable interiors I've seen to date, with pieces made specially for the hotel. Don't skip the spa, with an infinity pool overlooking the landscape and sitting rooms so serene you'll feel recharged in no time.
BOOK IT
Where to Eat & Drink
The Mermaid Cafe
The ice cream parlor attached to the mermaid cafe
Photos: Courtesy of Porter Simmons
The legendary mermaid burrito, wrapped in Nori seaweed and served with chopsticks.
The Mermaid Cafe perfectly embodies the funky spirit of Catskill — a rainbow storefront, homemade kombucha and a sign reading 'ice cream solves everything' promise a fulfilling dining experience from the get-go. Make sure to order the Mermaid Burrito, which is a classic burrito wrapped in Nori seaweed (the perfect sushi / burrito combo).
HiLo Catskill
The exterior of HiLo cafe, which doubles as a local art gallery.
Photos: Courtesy of Porter Simmons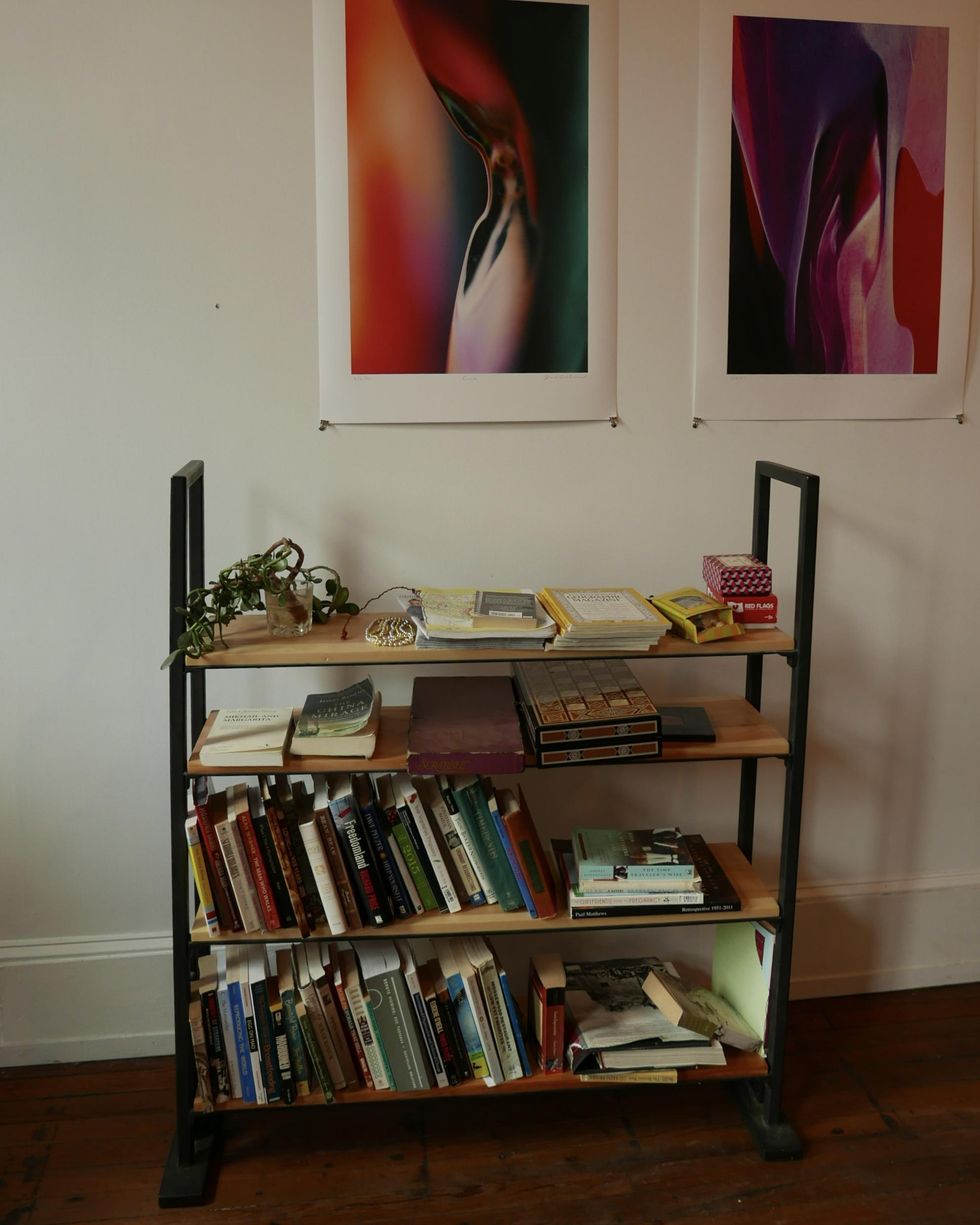 The back room at HiLo cafe, where you can grab a book and admire art by local artists
HiLo is your classic small town coffee shop, with vegan pastries and a short menu of lunch items if you're feeling hungry. Head to the back of the shop where you'll find a cozy seating area and walls adorned with pieces for sale by local artists.
New York Restaurant
All menu items are made using local ingredients, and many incorporate a Polish twist.
Photo: Courtesy of New York Restaurant
If you're looking for a more formal dining experience, head to New York Restaurant, run by a Catskill native and serving a combination of Polish cuisine and American cooking. The menu makes use of local ingredients, giving the restaurant a farm-to-table feel that's truly authentic. Make sure to check their website for live music on the weekends.
Where to Shop
Corduroy Shop
A wall of vintage textiles on display at Corduroy Shop.
Photos: Courtesy of Porter Simmons
A few of the throw pillows for sale, each unique and made from recycled textiles and fabrics
I almost walked right by Corduroy Shop and am so glad I didn't. Shop owner Chrisie Cordrey has made it her mission to salvage textiles from ending up in landfills. Stop inside to see some of the most beautiful fabrics she's picked up from around the world, whether from a vintage flea or a garage sale next door. The shop specializes in recycling these textiles into pillows, throws, and they even upholster furniture. If you have a piece that's in need of some TLC, bring it to the Corduroy Shop to be patched up with some of the chicest fabrics you'll find out there (and they'll come home with quite the eclectic flair).
Sister Salvage
A vintage sign for sale inside the Sister Salvage store.
Photos: Courtesy of Porter Simmons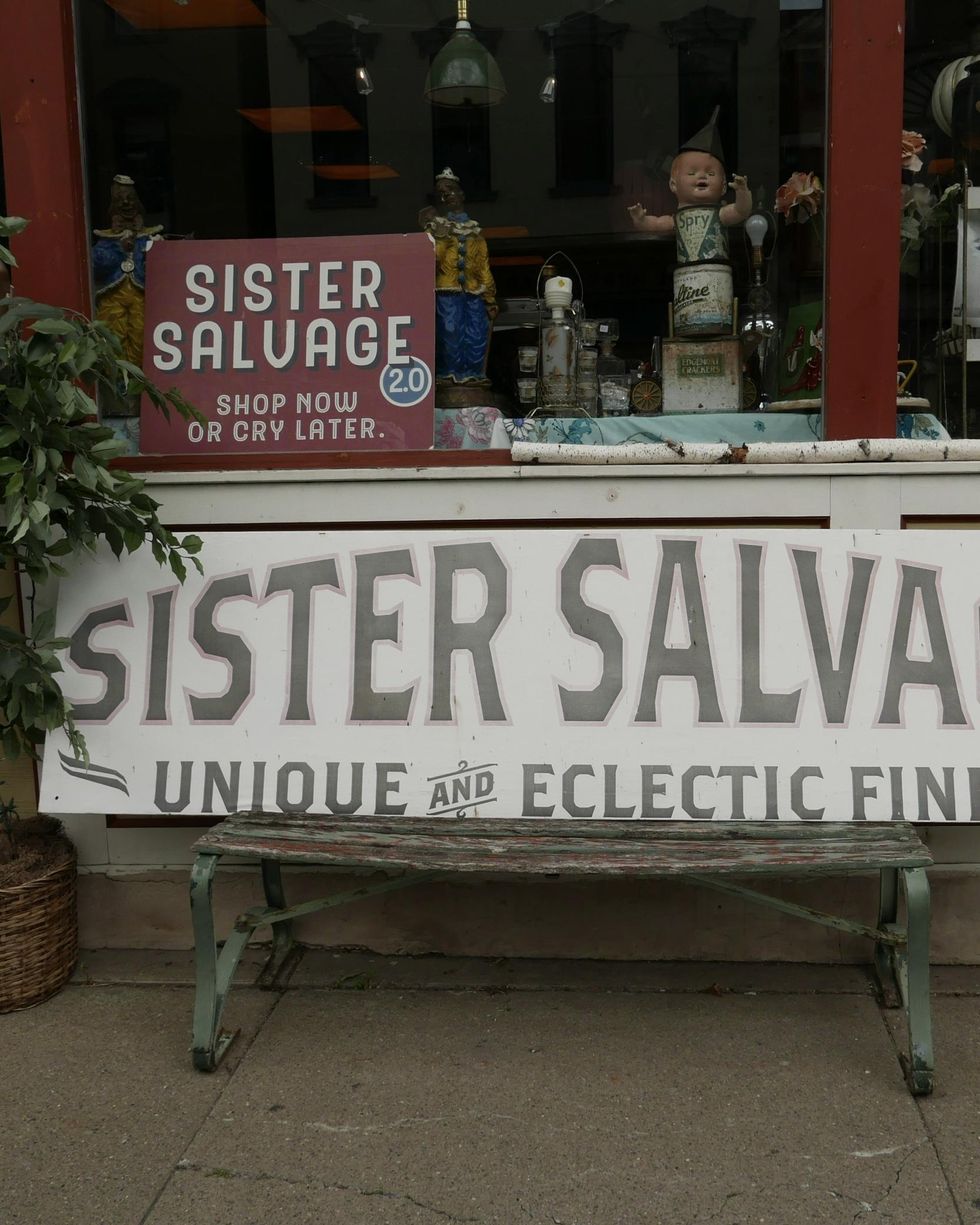 The window display at Sister Salvage
Sister Salvage is an experience not to be missed, with merchandise that likely came exclusively from eclectic yard sales and your grandmother's attic. Vintage signs, postcards, road maps, you name it — if you're looking for memorabilia from the past, you'll find it here. Whether you're in the market for knick knacks or just want to take a peek, a visit to the store is one you won't forget.
Kaaterskill Market
Find everything from hand-made brooms to chic kitchen accessories in this artisanal shop.
Photo: Courtesy of Kaaterskill Market
Think of Kaaterskill Market as the best of the best when it comes to chic artisan-made goods. Everything is sustainable, local, fair trade or natural, and you'll find a little bit of everything — think: bath accessories, kitchen knick knacks, and a plethora of the perfect hostess gift. The store has a calming presence that sucks you in in the best way possible, and you likely won't be leaving empty-handed.
window.REBELMOUSE_ACTIVE_TASKS_QUEUE.push(function(){
var makeMonitor = (getStatus, cb, delay) => { delay = delay || 100; var monitor = () => { var time = +new Date(); var status = getStatus(); if (status) { return cb(status); } else { if (!stopMonitor && +new Date() - time < 30 * 60 * 1000) { monitorId = setTimeout(monitor, delay); } else { cb(false); } } }, cancel = () => { stopMonitor = true; clearInterval(monitorId); }; let monitorId, stopMonitor = false; return { start: monitor, cancel: cancel, }; };
var leftArrowCarrousel = makeMonitor( function () { return document.querySelector( ".shop-sidebar.shop-posts .posts-wrapper .slick-next" ); }, function (res) { res.addEventListener("click", () => { gtag("event", "Left Arrow Click", { event_category: "Shopping Module", event_label: "Previous product at carrousel", }); }); } );
leftArrowCarrousel.start();
var rightArrowCarrousel = makeMonitor( function () { return document.querySelector( ".shop-sidebar.shop-posts .posts-wrapper .slick-prev" ); }, function (res) { res.addEventListener("click", () => { gtag("event", "Right Arrow Click", { event_category: "Shopping Module", event_label: "Next product at carrousel", }); }); } );
rightArrowCarrousel.start();
var buyButton = makeMonitor( function () { return document.querySelectorAll( ".shop-sidebar.shop-posts .posts-wrapper .widget__product-buy-link-btn" ); }, function (res) { for (let button of res) { button.addEventListener("click", () => { gtag("event", "Buy button click", { event_category: "Shopping Module", event_label: `${button["href"]}`, }); }); } } );
buyButton.start();
var imageShopp = makeMonitor( function () { return document.querySelectorAll( ".shop-sidebar.shop-posts .posts-wrapper .widget__head a" ); }, function (res) { for (let image of res) { image.addEventListener("click", () => { gtag("event", "Image click", { event_category: "Shopping Module", event_label: `${image["href"]}`, }); }); } } );
imageShopp.start();
var productTitle = makeMonitor( function () { return document.querySelectorAll( ".shop-sidebar.shop-posts .posts-wrapper .widget__headline .widget__headline-text" ); }, function (res) { for (let product of res) { product.addEventListener("click", () => { gtag("event", "Product title click", { event_category: "Shopping Module", event_label: `${product["href"]}`, }); }); } } );
productTitle.start();
});
window.REBELMOUSE_ACTIVE_TASKS_QUEUE.push(function(){
window.REBELMOUSE_STDLIB.loadExternalScript("https://s.skimresources.com/js/150311X1615657.skimlinks.js", function() {
});
});
window.REBELMOUSE_ACTIVE_TASKS_QUEUE.push(function(){
let modDate = new Date (document.querySelector('.current--post .social-date-modified__text').textContent); let createDate = new Date (document.querySelector('.current--post .social-date__text').textContent); let m_names = new Array("January", "February", "March", "April", "May", "June", "July", "August", "September", "October", "November", "December");
function dateToMDY(inputDate) { var d = inputDate.getDate(); var m = inputDate.getMonth(); var y = inputDate.getFullYear(); return '' + m_names[m] + ' ' + (d <= 9 ? '' + d : d) + ', ' + y ; } document.querySelector('.current--post .social-date-modified__text').innerText = dateToMDY(modDate); document.querySelector('.current--post .social-date__text').innerText = dateToMDY(createDate); }); window.REBELMOUSE_ACTIVE_TASKS_QUEUE.push(function(){ !function(f,b,e,v,n,t,s){if(f.fbq)return;n=f.fbq=function(){n.callMethod?n.callMethod.apply(n,arguments):n.queue.push(arguments)};if(!f._fbq)f._fbq=n;n.push=n;n.loaded=!0;n.version='2.0';n.queue=[];t=b.createElement(e);t.async=!0;t.src=v;s=b.getElementsByTagName(e)[0];s.parentNode.insertBefore(t,s)}(window, document,'script','https://connect.facebook.net/en_US/fbevents.js');fbq('init', '1248680838922690');fbq('track', 'PageView'); }); window.REBELMOUSE_ACTIVE_TASKS_QUEUE.push(function(){ window.REBELMOUSE_STDLIB.onElementInViewport({ threshold: 400, selector: "video", oneTime: true, onIntersect: function(entry){ var element = entry.target; element.setAttribute("allow","autoplay"); element.loop = true; element.muted = true; element.autoplay = true; element.setAttribute("playsinline","true"); //element.controls = false; element.play(); } }); }); window.REBELMOUSE_ACTIVE_TASKS_QUEUE.push(function(){ let headings = document.evaluate("//p[contains(., 'Want more stories like this?')]", document, null, XPathResult.ANY_TYPE, null ); let thisHeading = headings.iterateNext(); console.log(thisHeading.textContent, 'head changed'); thisHeading.innerHTML = "More From Coveteur"; thisHeading.style.fontFamily= 'Playfair Display'; thisHeading.style.fontSize="24px";
});
window.REBELMOUSE_ACTIVE_TASKS_QUEUE.push(function(){
IcreateElementChangeListener('.shop-posts .widget__headline-text', (el)=>{
el.setAttribute("rel","nofollow");
});
});