When we think of classic cocktails, we think of internationally renowned, decades-long favorites, born in bars so old we hardly know the origins. The gold rush? A recent classic, crafted in 2000 at New York's famous Milk & Honey. According to an interview featured on Punch with TJ Siegal, the drink was a riff on his favorite, the bourbon sour, made silky sweet with the addition of honey syrup. Because Siegal drank his sours without egg and on the rocks, the gold rush is served the same way, further differing from a classic whiskey sour.
The original gold rush was made with a thick honey syrup, using a 3:1 honey to water ratio. In our recipe below, developer Michelle McGlinn uses a thinner ratio of 1:1, for a consistency much like simple syrup. Whether you like more honey or less, the drink will have a rich and smooth mouthfeel made airy and light by shaking twice before pouring over ice. Garnish with lemon and thyme or with nothing at all like the original developer — either way, you'll have a delicious new sour to enjoy.
Gather your gold rush ingredients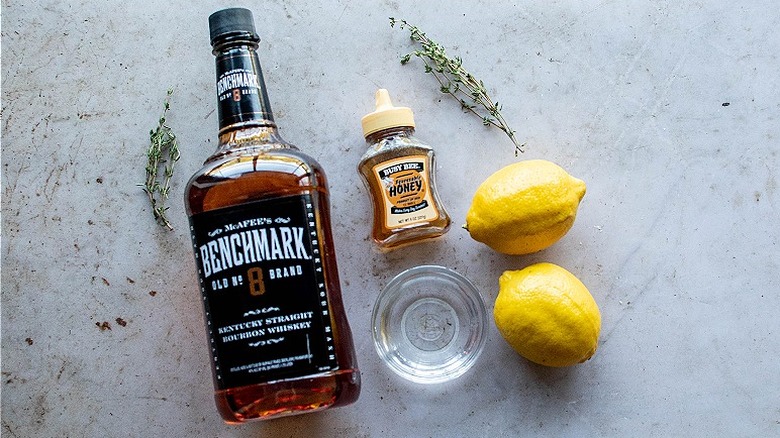 Michelle McGlinn/Mashed
Making this cocktail for the first time requires a few extra minutes of prep to make the silky honey syrup, but otherwise requires very little time and few ingredients. Once you mix together the honey and water into a syrup, grab your favorite bourbon whiskey and a lemon. Any bourbon will do, and it doesn't have to be high-end. Don't like bourbon? Switch it to gin for a Bee's Knees cocktail.
Make the honey syrup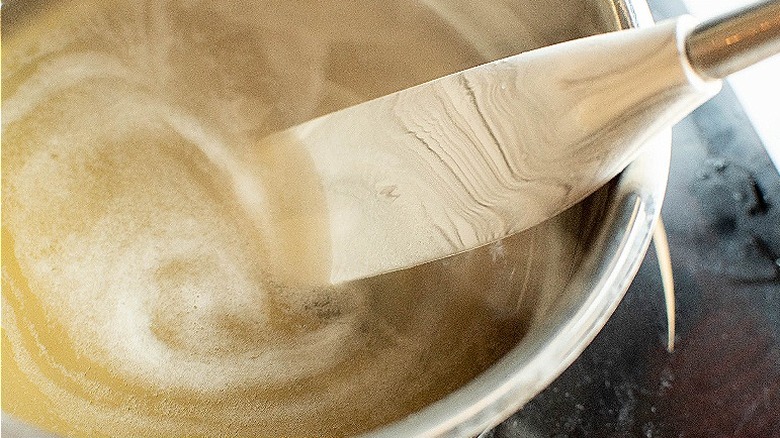 Michelle McGlinn/Mashed
Making honey syrup is just like making simple syrup, and maybe even easier. Bring the water to a simmer in a small saucepan and add the honey, stirring constantly to avoid the sugars burning. The honey thins and combines into the water, creating a smooth syrup consistency. The syrup will swirl with thin white froth as the honey dissolves, a sign that it is finished. Remove from the heat and cool completely, then store in an airtight jar or container in the refrigerator for up to a month.
Dry shake the liquids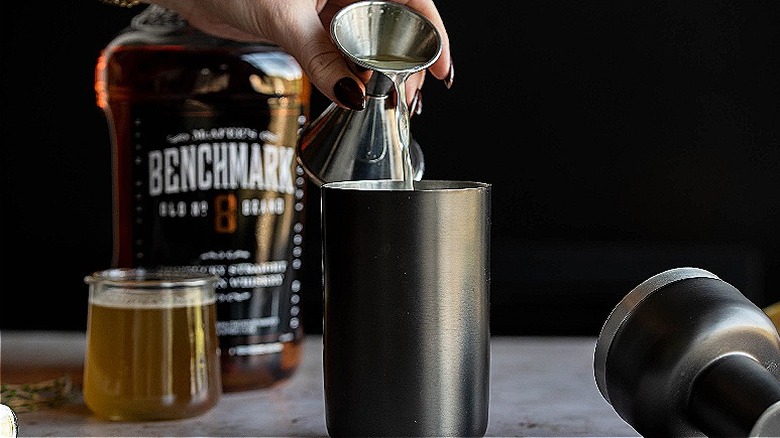 Michelle McGlinn/Mashed
Dry shaking this cocktail is an optional but clever bartender hack to achieve the smoothest drink. Because honey is dense, even in a syrup, shaking it without ice helps combine and froth the honey before chilling the drink. Pour the ingredients into the shaker sans ice and shake, covering the lid with a towel to avoid escaping froth. Shake vigorously for upwards of 30 seconds to allow the ingredients time to combine and froth.
Add ice and shake again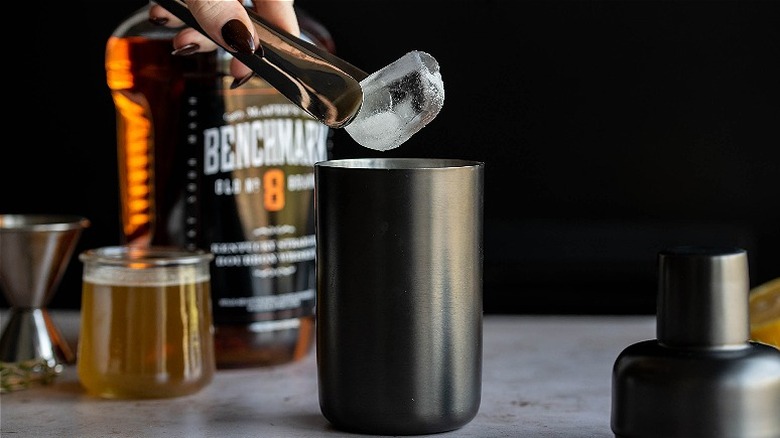 Michelle McGlinn/Mashed
Whether you've shaken the liquids dry or are skipping that step, fill the shaker with ice and shake the liquids to chill. Shake for about 15 seconds or until the shaker is cold to the touch. Grab a rocks glass, highball, or even a coupe and strain the drink over ice, fine straining if your lemon juice was particularly pulpy. This drink can also be enjoyed neat without ice based on your preference of bourbon strength.
Garnish and serve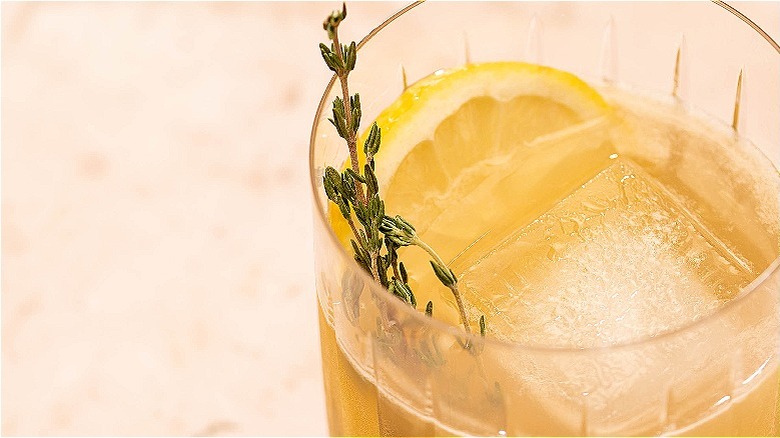 Michelle McGlinn/Mashed
This cocktail can be garnished plainly or extravagantly thanks to its gold hue and inherent simplicity. For a classic garnish, add a lemon wedge or wheel for added lemon flavor. To make it fancier, use a lemon twist instead. If serving on the cusp of fall, try adding fresh thyme or rosemary for a beautiful herbal garnish, or if serving during high-summer, try a bunch of mint. This cocktail is super customizable and can be served for nearly any occasion and in any season. Wondering what to serve this with? Being so closely related to a whiskey sour, serve as an aperitif before dinner with marinated feta and olives, salty charcuterie, and fried artichokes.