Le Mistral, as the strong northwesterly wind is known here in Marseille, returned on a recent September day for the first time in a long while. It is an indicator of the change of seasons and that autumn is upon us. A driving wind that blows directly down the Rhone Valley to the Mediterranean, it averages 30-50 miles per hour.
Le Mistral is so celebrated that for 30 years, Marseille has held La Fête du Vent (The Wind Festival) and ironically, it coincides today with its return. It is also the reason that we enjoy 300 days a year of luminous, sunny skies. The wind is said to bring good health, and one reason for good wine, because it clears the vines and dries the soil. The name originated from the Occitan, and le mistral translated, means "masterly."
On this sunny, albeit blustery Saturday afternoon, we make our way down Boulevard Chave to our lunch reservation at Bouillon, a restaurant and wine shop that opened in December 2021. Usually, the sidewalk patio is filled with diners, but on this breezy day, the seating is all indoors. The restaurant quickly fills up with multigenerational families and couples and before too long, there are no seats left.
Bouillon is the result of a friendship between butcher Auregan Dean and oenophile Mathieu Zurcher. The tiny eatery that doubles as a wine shop came together when the two decided to combine their expertise. Mathieu works the front of the house and serves as resident caviste. Auregan develops the daily menu and leads the kitchen as head chef. The friends believe their individual strengths complement one another for their budding business.
Auregan hails from the Perche region in Normandy, not far from Mont Saint-Michel, where she grew up with a family who shared Sunday dinners together and a father who bow-hunted for game. She left home to study communications in Paris, but ultimately decided that it was not her lot. From there, she changed course and went to Rouen to study cooking, then to Toulouse to train as a butcher. After her training, she chose Marseille, seduced by the sun and the sea, but also because she felt it was a city where she could create something.
Mathieu grew up near Marseille, studied at the Beaux-Arts de Paris, then spent a few years in Lisbon practicing his art. Over time, he developed a passion for wine, specifically natural wines. He missed his homeland and his family in Provence and decided to return to Marseille with his wife, hoping to start a business that involved his love of wine.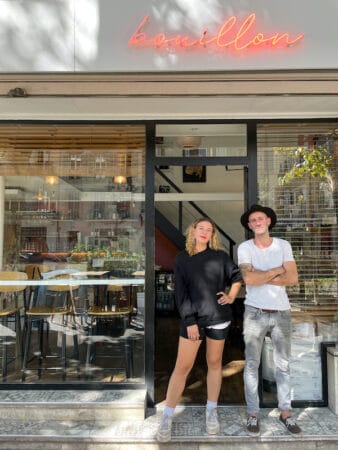 Mathieu and Auregan met through mutual friends and spent many long hours, as we do in France, cooking, eating around the table and talking about food. On the inspiration for Bouillon, Mathieu says, "The meal in France is to share the table. The French and the Italians are the only people talking about food while they are eating…wondering, where are we going to eat next? At lunch we're asking, where are we going to eat for dinner? And at dinner we are asking, what are we going to have for breakfast? Food is an institution."
When asked about the name, Bouillon, Auregan shares that the concept of the bouillon restaurant became popular in Paris in the 19th century. In 1855, another butcher, Pierre Louis Duval, decided to serve a simple piece of meat in a soup stock for a good price and before too long, he had lines out the door – the concept of the bouillon restaurant was born. Auregan and Mathieu share this philosophy and are inspired by traditional French recipes, interpreted by a new palate, all for a reasonable price. The availability of fresh produce is a big source of inspiration for their menu, which changes on a daily basis.
Auregan describes her process: "Sometimes I just open a book and I read a sentence, and it's going to inspire me. We don't really know what's going to be in the fridge from week to week. So I really build the menu according to what I have and I don't want any waste anything. Ninety percent of the time, the menu is done with what I have available from the producers, from the fishermen, from the farms, from the season. Typically, I arrive in the morning, I open the fridge and I start building the menu with what I have. I prefer the cold season because you can have hot dishes with a sauce. I prefer youn flat mijote (a dish that simmers for a long time). I'm very excited by Grandma recipes. I really like all the dishes that we used to eat during childhood, so the base is the French culinary tradition and we just add our little touch to that."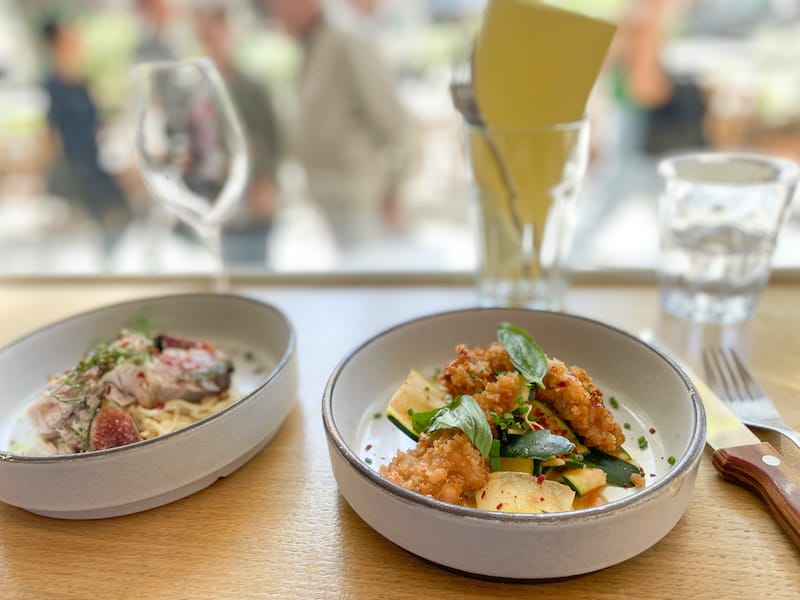 We opt to take"la formula," also known as prix fixe, typical of many French menus. Our server suggests a red wine from a small wine maker close-by, Aozina, in Roussillon. It is a nice Syrah blend to go with our main dish. Mathieu sources his wines from winemakers who are producing natural wine without chemical products. He travels around France to meet with vintners and orders directly without using a middleman. He always tastes, he says: "If I don't taste, I don't order."
Today's menu includes one appetizer of pelamide (bonito) with a celery remoulade and fresh figs. The other is a pork katsu with marinated zucchini. We are seated at a small bar next to the window and watch as the neighborhood comes alive. More than once, passersby are turned away because the restaurant is full. We gobble up our first course and make a toast to the day.
Before too long, our main course arrives. One plate is their homemade sausage with sage over a potato purée and sauce. Another plate is caillette (a large meatball), with einkorn grain, zucchini, pesto, roasted onions and hazelnuts. We swap the plates back and forth and each take a few bites. It's likely something about the crisp air this day, because we lean toward the sausage and gravy dish as our favorite.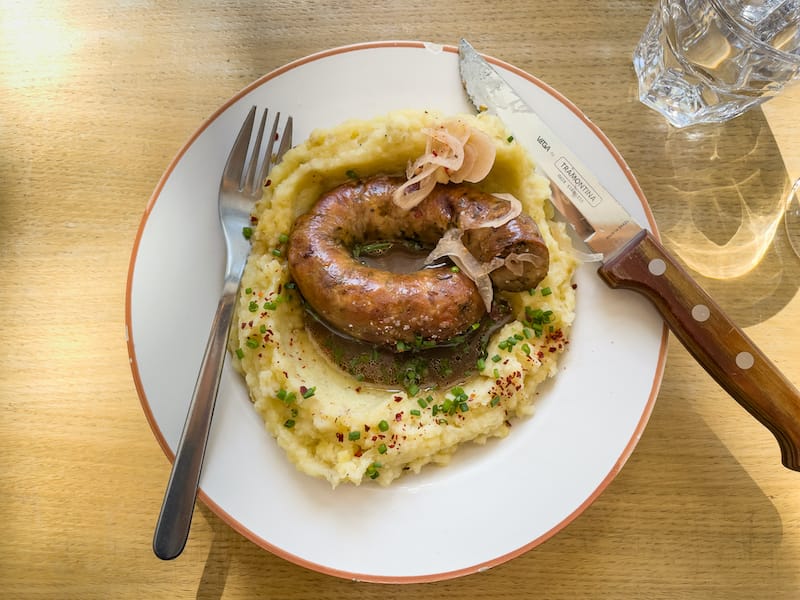 We speak more with Mathieu and Auregan about how it was to open a new restaurant in Marseille. "Even if you don't have a lot of money, you can easily start a business in Marseille," says Auregan. "Things are changing rapidly, but it's still possible. So we were here at the right time to start our business. A lot of cooks now are aware of the economical and ecological repercussions. We all want to have happy employees. We don't want them to work long hours and with little pay. We don't want to import everything from abroad. So you can eat meat, but the right way. You can eat vegetables, but at the right season – it's more a return to the source. So there is actually a movement, but it's not a trend, it's not chi-chi or bobo, it's a necessity. We have a very diverse clientele. We have clientele of regular customers from the neighborhood. We have 70-year-old couples calling to ask if we have la cervelle (a traditional dish of many brains) on the menu. We both had a childhood where our parents were enjoying life. It's our love for good produce that made us create this restaurant. We love to prepare food for other people. We enjoy serving food."
Our bellies are just about full, but we save enough room for our desserts. One is a traditional choux pastry with chocolate, salted caramel and a pear compote. The other is roasted peach and nectarine with vanilla, almond whipped cream. Not long after the last bite is gone, our food comas begin to set in and we decide it is time for la sieste.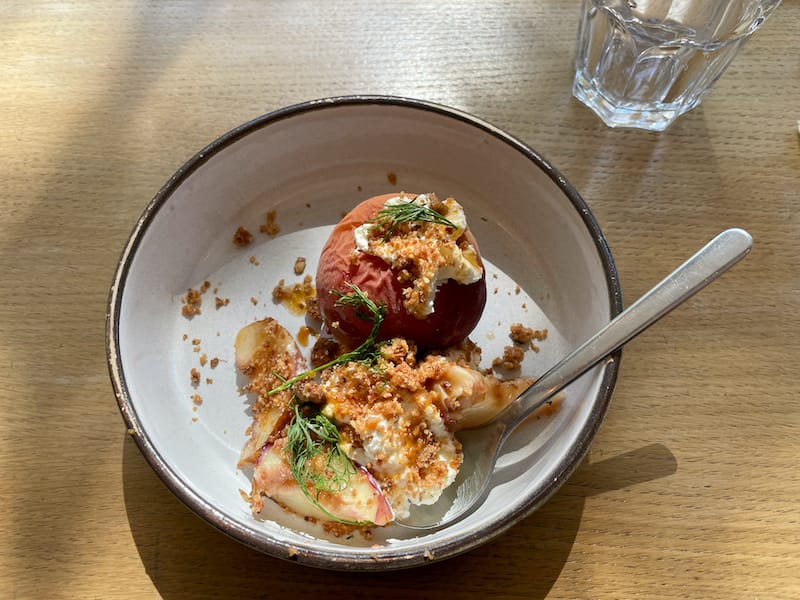 This is our third visit to Bouillon and each time, we want to return. I often remark that what distinguishes a good chef from a great chef is that you can taste when food is prepared with love. Auregan and Mathieu have created such a place. From the time you enter, you feel at home. Mathieu has created a front of the house that is welcoming, intimate and inviting and Auregan has created a kitchen that feels reminiscent of the country house of a friend, where there is always something good about to arrive from the kitchen.
We say our goodbyes and return to the boulevard where Le Mistral is whipping the newly fallen leaves from the Plane trees and the tram whisks by. My mind returns to the translation of le mistral, which means "masterly," and everything about the day seems felicitous. In Bouillon, Auregan Dean and Mathieu Zurcher have masterfully created a little piece of home on the big boulevard.